https://www.youtube.com/watch?v=bCLNTmNj5bI
BEATRIZ AT DINNER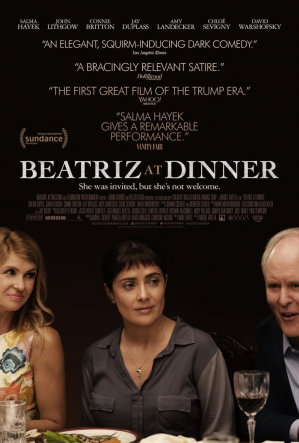 Beatriz (Salma Hayek), an immigrant from a poor town in Mexico, has drawn on her innate kindness to build a career as a spiritual health practitioner in Los Angeles. Doug Strutt (John Lithgow) is a cutthroat, self-satisfied billionaire real estate developer. When these two opposites meet at a dinner party, their worlds collide and neither will ever be the same.
Director: Miguel Arteta  
Writer(s): Mike White  
Cast: Amy Landecker, Chloë Sevigny, Connie Britton, David Warshofsky, Jay Duplass, John Lithgow, Salma Hayek
Instagram: Aramada_Obirin

Culture, Art History, Film/Cinema, Photography, World Literature, Criminal Justice, Sociology, Child Welfare, Lifestyle & Community. 
--
Listserv moderated by Toyin Falola, University of Texas at Austin
To post to this group, send an email to USAAfricaDialogue@googlegroups.com
To subscribe to this group, send an email to USAAfricaDialogue+subscribe@googlegroups.com
Current archives at
http://groups.google.com/group/USAAfricaDialogue
Early archives at
http://www.utexas.edu/conferences/africa/ads/index.html
---
You received this message because you are subscribed to the Google Groups "USA Africa Dialogue Series" group.
To unsubscribe from this group and stop receiving emails from it, send an email to
usaafricadialogue+unsubscribe@googlegroups.com
.
For more options, visit
https://groups.google.com/d/optout
.